- 2012 CHAMPIONSHIPS -

CONGRATULATIONS
MIDGET TEAM
ON WINNING THE
NFC CHAMPIONSHIP!!
------------------------------------
PONY GREEN TEAM
WINS THE
NSFL DIV II
SUPER BOWL!!
------------------------------------
VARSITY TEAM WINS!!!
NSFL DIV CHAMPIONSHIP TITLE

---

GREEN HORNETS AWARDS CEREMONY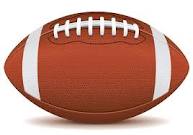 The Valley Stream Green Hornets youth football league hosted an awards ceremony on Dec. 9 at Blessed Sacrament Church to celebrate the various
successes from the 2012 season. Two teams won the Superbowl of their respective leagues — the seniors (ages 13 and 14) under the direction of coach Bobby Hawkey Jr. and Pony Green (ages 11 and 12) under the leadership of head coach Bill Hughes. The Midget Team (ages 9 and 10) under the direction of coach John Beaubrun won the NFC Division 1 Championship title. Numerous awards were also presented for individual accomplishments and to
the cheerleaders and coaches. Patrick Ferraiolo, a player on the senior team, became the first recipient of the Bob Hawkey Achievement Award, named for the
man who founded the league 62 years ago. It is given to a player who has been a long-time member of the league, demonstrates leadership and sportsmanship, is a
good athlete and student, and is "all that a Green Hornets player should be," according to league President Sharon Daly.
---
---
Patrick Ferraiolo wins the "Coach Bob Hawkey Achievement Award"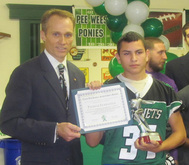 Varsity Head Coach, Bobby Hawkey presents Patrick Ferraiolo with the
"Coach Bob Hawkey Achievement Award"
This award was named in honor of the late Bob Hawkey, who was one of the founders of the Green Hornets and Varsity Head Coach for 59 years.
---
---
Green Hornets Pep Rally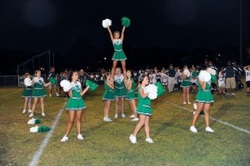 It was all about green and white last Friday night at Firemen's Field as the Valley Stream Green Hornets youth football league kicked off its 62nd season. Family and friends filled the bleachers and cheered on the players from the six different teams. League President Sharon Daly said there are about 180 players this year, ages 7-14. There are also about 50 cheererleaders, who performed at the Sept. 7 pep rally to fire up the crowd. The event took place at the Bob Hawkey Football Field, which was renamed in 2010 to honor the late Green Hornets legend. The first set of games was held last weekend, with the Pony White and PeeWee White teams victorious. The Green Hornets teams will be playing various squads from Nassau and Suffolk counties through early November. The next big event will
be the Homecoming celebration on Oct. 7.
---